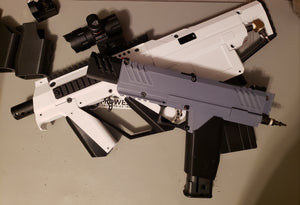 2022-DEC-06 - General Updates
The Long Silence is Over
It's been a long while since putting together one of these so here goes nothing. The past year a lot has been going on behind the scenes in order to get to a point where I am comfortable taking orders for the bullpup and releasing the files for the TIPX shells. Add to this a long distance move, a couple of trips out of the country, and a promotion at work and you get about half of the picture. These projects really are a labor of love and I am fully committed to seeing it across the finish line.  
Bullpup Progress
Prior to now the bullpups main receiver was printed in 4 parts. This was primarily due to the size limitations of my 3D printer. The plan from day 0 was always to have the receiver be a two piece construction so a larger printer was always going to be needed. Rather than purchase one of the shelf I opted to go the more difficult route of upgrading my old Ender 3 to handle the task. With the many hours I've put on the machine it was due for some much needed upgrades and the further down the rabbit hole I went the more things I found needing attention.
Enlarging the printer was easy enough. But in the process of enclosing the printer and upgrading the hotend to print higher temperature materials such as ABS and ASA I discovered my board was beginning to show its age. 
 Clearly this was a dangerous situation which halted printing and development on this machine. But it also provided another opportunity to upgrade parts for the long haul ahead. Admittedly I reached a little too far and had to walk some changes back in order to keep moving forward. Progress continues on tuning for ASA and ABS in order to find my sweet spot for appearance and material strength. The setbacks are unfortunate and I had hoped to have the BETA program launched by now however I refuse to put out a substandard product or take any money from anyone until I have a production pipeline and a small inventory of parts to pull orders from. There's been a few other issues with dialing in the primary printer for this program but once these issues are cleared a few BETA models will be printed and videos filmed detailing the operation and assembly.
The Program
The way the Beta will work has long been on my mind. Obviously I want everyone who wants one to have one but I certainly can't drown myself in orders. The Program will launch in waves. Initial waves will be 5 markers with waves increasing as feedback is gathered from users and production ramps up.
Originally I believed I would release the Beta model in 2 base configurations with users customizing their build directly before production. Now looking at the production times and what it'll take to start getting these into the wild I've opted to release one base model along with STLs of the various accessories as a part of the BETA program. Upon setting a Beta order, you'll receive the download link to the file directory of STLs and your bullpup will be sent. 
In addition, any other creators who wish to iterate and create their own mods for these platforms can request DWGs for their work. If you find yourself in that category feel free to email me sales@magfedsolutions.com and I'll get you setup to begin.
TIPX Mod-Xc
A while back I released these files to a couple of testers and the results are all very positive. Aside for some minor tweaks here and there the Mod-Xc is ready for the brave souls that would attempt to put this thing together without instructions. The STL files will be available for download December 15th with assembly instructions being released as an update to everyone who purchases the STL access. As modifications happen you'll received emails notifying you of the updates.
Conclusion 
2023 is shaping up to be a huge leap forward. 2022 was a year of quiet suffering on my part and going forward I'm looking forward to showing off more of what's going on again. Eventually I'd like to continue to move towards doing injection molded projects for mass consumption. These projects have definitely pushed me to expand my skills in modeling and 3d printing and now to figuring production schedules and logistics. Thank you to everyone who is still here, even if it's only to cast doubt. It's been a very hard year but it'll be great to finally get a few of these items onto the field.
---