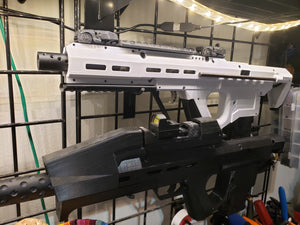 2021-JUNE-15 - Bullpup Log: Entry 11
Design Progress
The design of the base platform is complete. We've finally arrived at a design that incorporates all of the future tech we're going to continue developing including an electronic trigger package, upgraded internals and ammo counter. As stated from the beginning the goal is to create an ecosystem and a large part of that was ensuring that the base marker platform could accommodate the ideas of the future.
That White Marker Tho...
It's apparent that folks got drawin into the high contrast of the white variant that has been shown off recently. The purpose of printing in this white/black variant was to get a visual idea of the style of the marker when printing the various parts in a two tone color. This is allowing me, with the input of the DevGru, to enhance the designs of the accessories and split the parts to enhance the looks of the marker when printing in different colors. 
Twin SMG configs. The Two Tone SMG front features a design change which allows for the grip to be swapped.
The new Rifle front features a four piece design enabling different rails to be affixed and to add to the cool factor when printed in different colors.
Two tone Halo Assault Rifle variant with full finger trigger guard and adjustable stock.
Stock Options
In addition to the changes to the accessories, I've also managed to get the first version of the adjustable stock printed and fitted. This initial version utilized the guide rods from a Milsig HCS (as I have a few laying around) however a new rod is in the works for the production model. 
Very rough first draft of the Adjustable Stock.
Still on the Drawing Board
The next update will feature some of the enhancements that are slowly making their way from the drawing board into reality. So far those include.
In-house internals
On-board air.
Electronic Trigger
Ammo Counter 
The Next Phase
Recently we've put up a few new patch designs to help raise funds for the project and many of you responded!
OnlyFSR mini-patches
 have been flying out of here along with the
Magfed Security patch
 and for that I say thank you. We're still cooking up exactly how to track the funding progress and offer more transparency but know that each purchase really makes a difference. It's taken years to get to this point in design and now it's coming down to a matter of production logistics and funding. The next phase is a paid Beta and those details will be announced on the
DevGru
. 
---
4 comments