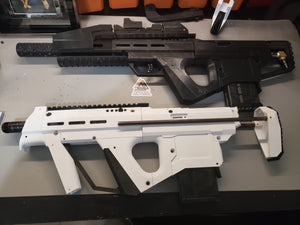 2021-MAY-20 - Bullpup Log: Entry 10
CURRENT PROGRESS
Now comes the fun part. Now that the first proof of concept is working and has proven itself I'll be working on future-proofing the design and ensuring it passes the 'rule of cool'.
Future-proofing the design involves incorporating a few neat future enhancements into the design prior to finalizing any production version of this bullpup. At the moment the base marker has incorporated lessons learned from the Ammo Counter side quest I went on earlier in the year. There's going to be a writeup on that at a later date. Other things I'd like to work on incorporating includes a possible electronic mode select and leaving appropriate space for our own proprietary engine we're working on. 
The Rule of Cool is simple. Make it look as aesthetically pleasing to my inner 14 year old as I can. Now while all of this continues of course there's the opportunity to continue to develop more grip types, front shrouds, butt stock/air options as feasibly possible.  One such example of this is the below incorporation of a modular grip into the SMG shroud. With this change users will easily be able to swap the grip on their SMG shroud to their personal likings.
Recently there have been some really good questions asked.
1. What ever happened to the M17 version?

The M17 version is still on the hard drive. There are a couple of parts that simply cannot be 3D printed for it to fire reliably so in the future should we gain the ability to CNC or 3D print metals in house for prototyping it could make a return. but for now we simply cannot in good conscience sell it as it sits. 
2. Is the intent to 3D print these or Injection Mold them?
The goal is to Injection Mold, however to get to that point this project need a huge following and pool of potential buyers to meet what the minimum order will be for a run of injection molded parts. Should that threshold not be met there's a backup plan for sure but our goal is Injection Molded.
3. Why not do a Go-Fund-Me?
I think the community has a bad track record with going that route. We would rather offer up several smaller ancillary items such as patches, digital files and shirts. This way, you guys are not just shelling out money to a black hole on the internet. Every purchase on the site helps in huge ways. We'll soon have more patches coming in stock including the OnlyFSR patch due in any day now.
4. What are the next steps?
Beta. But before that can happen Magfed Solutions needs a larger 3D printer. To justify that expense we need the capital and community interest to justify it. Current thoughts are to do a limited paid beta test in order to raise funds for the massive amounts of filament and the new 3D printer setup that will be necessary to crank these out in any capacity. If you're interested in this shoot an email over to sales@magfedsolutions.com for more information. Of course should sales spike significantly on the site then those funds will go directly towards funding the Beta.
That's all for this entry. Be on the look out for some changes on the website, new products getting added a bit more frequently, and more news on our Facebook, Instagram and soon Youtube.
---