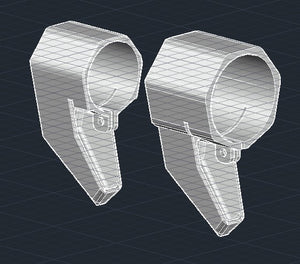 2020-MAR-03 - Advanced Tank Plate UPDATE
Years ago it dawned on me that there were not very many minimalist options for utilizing tank-in-stock marker setups for paintball. At the time the options were.... well they were very old school and not at all matching the aesthetic of modern magfed options.
Typical 'old school' tank plate.
In short order I believed I captured a design that was just as functional and matched the aesthetic a lot of people are looking for. At $60 per part for a nylon plate, I knew not many people would be able to afford it, but the idea was out there and no one could deny that this was something people were looking for.
Version 1 - Magfed Solutions Advanced Tank Plate. - Aug 2018
After moving production in house to our own 3d Printer and collecting data from users we've arrived at what will be the final design iteration of the Advanced Tank Plate. It has been redesigned to be produced efficiently via both injection molding and 3d printing technologies, compatible with rounded bottom carbon fiber tanks and in the future accept our quick change lever to enable fast, tool less swapping of the plate between air tanks in the field. After pricing out injection molds for these latest changes we can definitely say that it is something that is very likely and would be even more likely should we acquire a large bulk order via a law enforcement training agency or distributor. 
Final Version - Magfed Solutions Advanced Tank Plate. - March 2020
For now they will be produced in PETG and will sell for $17 USD for the 2" version and $22 USD for the 2.5" version. Should be available mid to late March so keep an eye on our Instagram and Facebook pages for when they drop. To get in contact about pre-ordering one or perhaps a bulk order, email sales@magfedsolutions.com.
---