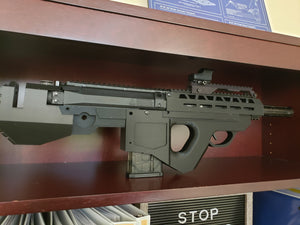 2019-DEC-19 - Bullpup Log: Entry 1
When I started down this road a while back I had no clue what a challenge it would be to take the Milsig M17 and create from it a functional bullpup configuration. The first step was creating some goals and desired features for the different models I aimed to do.
The BMP-17 
(Bullpup Machine Pisol-M17) had some pretty lofty goals to start off with. I knew I wanted end users to be able to use most of the existing accessories available for the Tipx on this mod which would see the M17 be modified to accept Tipx Mags in a bullpup/machine pistol configuration. 
INITIAL CONCEPT - OCT 2018
 After assembly and trying the trigger action of the first version I felt it needed a cleaner feel to the trigger action and went back to the drawing board. Historically many bullpups are plagued with sloppy mechanical triggers however what I was feeling was absolutely horrible and unacceptable.
FIRST TEST FIT - JAN 2019
Following a short break a redesign was in order. As a way of approaching the trigger issues from another direction, a complete platform redesign was started. Eventually the form will return to the pistol magazine variant.
REDESIGN CAD DRAWING - OCT 2019
CURRENT TEST FIT - OCT 2019
 Over a year ago when this entire process started I never imagined that this thing would get this far along and so many people would take interest in it. As this thing continues to move forward I welcome everyone to submit ideas and suggestions on design aesthetics, features or even future projects to sales@magfedsolutions.com. If it interests many people I may open a discord server for more fluid communication and idea sharing.
---
2 comments